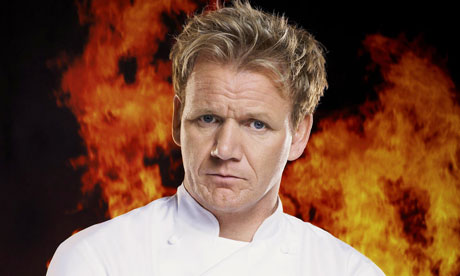 BALTIMORE, Md.
–
Smile, Hon, You're in Baltimore!
editor and publisher
William P. Tandy
joins celebrity chef
Gordon Ramsay
(above)
and a handful of Baltimore luminaries for a forum discussion about last year's trademark debacle surrounding Hampden's Café Hon in this week's episode of Ramsay's show,
Kitchen Nightmares
. Also joining the program are
WelcometoBaltimoreHon.com
proprietor
Bruce Goldfarb
and
Charlene Osborne
, author of
My Year as Baltimore's Best Hon
. The episode airs this Friday, February 24, 2012, on the Fox Network; check local listings for air time. A preview of the episode is available on the show's
website
.
Café Hon owner
Denise Whiting
invited Ramsay to profile her restaurant on the show, which focuses on ailing eateries and Ramsay's efforts to revitalize them. For more information on the long-running "hontroversy," pick up a copy of
Hon: Past, Present & Future
, available from
Atomic Books
, Cyclops Books & Music, or
directly from the publisher
.
-30-